Fire protection technology
(1) Activation unit:
Choice of electrical, thermal or manual release
(2) Housing cover:
The housing cover contains the respective ignition unit to initiate the extinguishing charge
(3) Extinguishing charge:
High-temperature extinguishing discs which generates the aerosol
(4) Reaction chamber:
Reaction chamber for generating the aerosol
(5) Coolant:
Cooling agent haul to cool down the aerosol
(6) Housing:
Robust steel housing with bottom closure
Extinguishing action by means of nanoparticles
The aerosol extinguishing agent decomposes very quickly, splitting water and carbon dioxide. This produces potassium carbonate = K2CO3. From a physiological point of view, potassium carbonate in fine particle sizes of 0.5 to 2.5 µm is considered harmless; it is also contained in food as the additive E501 and is better known as "potash".
In addition to stopping the chain reaction, cooling takes place at the molecular level. 
The extinguishing principle
Aerosol Technology starts with the chemical process.

State of the research: The 4th element

Fire Tetrahedron instead of a "Fire Triangle"


 
1 = heat (ignition energy)
2 = oxygen (oxidising agent)
3 = fuel
4 = uninhibited chemical chain reaction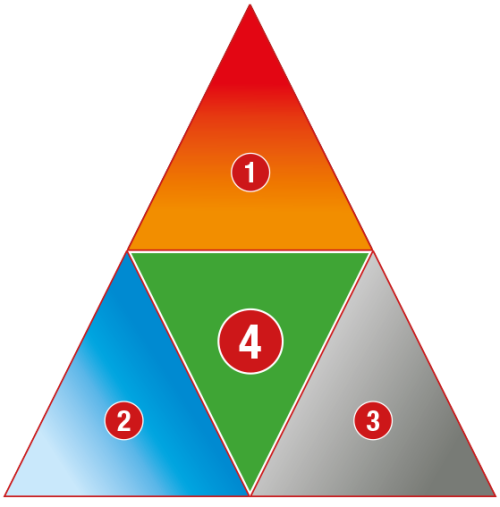 The Dynameco fire extinguishing generators are certified to DIN EN2 for fire classes A, B, F and C.
Fire extinguishing, especially in fire classes A and F, must be carried out in the development phase, which means the fastest possible fire detection and triggering of extinguishing generators.
Download our current approvals and certifications here:
Dynameco extinguishing systems are innovative solutions for preventive fire protection. Our certified aerosol extinguishing systems comply with the latest national and international standards and are approved for a wide range of fire protection applications. Our product range thus offers a wide range of options to improve your preventive fire protection. 
Company certification according to ISO 9001 and EN 9100 also means approval according to the highest requirements for aerospace and defence technology.
TÜV-tested extinguishing system for vehicles and buses according to UNCE R107
For further approvals and certifications, see the approvals and certifications overview