Marius Prünte: with 166.2 km/h on his bike – German record
Dynameco sponsors the fastest firefighter 
On 14 October 2021, cyclist and professional firefighter Marius Prünte broke the German record for the highest speed of a cyclist in slipstream on the Dekra-Lausitzring with a speed of 166.2 km/h – faster than greased lightning!
The incredible record speed was officially confirmed by the RID Record Institute for Germany.

Immediately after the hell-ride on the rain-soaked race track, RID record judge Mr. Rolf Allerdissen handed over the highly- and well-deserved record certificate.
However, this was only one step on the way to his greatest ambition.
Marius Prünte wants to beat the world record and has in mind a top speed of 300 km/h, which he wants to ride on a Salt Lake in Utah-USA in summer 2022.
The Dynameco-team keeps its fingers firmly crossed and continues to support Marius Prünte as a sponsor in this project and his ambitious plan.
The Dynameco brand and a firefighter – the perfect combination! When Marius Prünte approached us about potential sponsoring, he was not the only one who thought this.
Dynameco has been sponsoring the ambitious firefighter and cyclist Marius Prünte from Hamm for three years now.
After his sensational success at the 2018 World Firefighters Games held in South Korea, where he won both the firefighters' race (age group 18–29 years) and the time trial before returning home as a double gold medallist, he has now set himself another goal: His aim is to become the fastest cyclist in the world – and attempt to break the speed record of 300 km/h. Test rides are already taking place on cycle racing tracks in Germany. The dream of write another piece of sporting history by breaking the record on a salt lake in the USA is taking shape. We will report on this in future.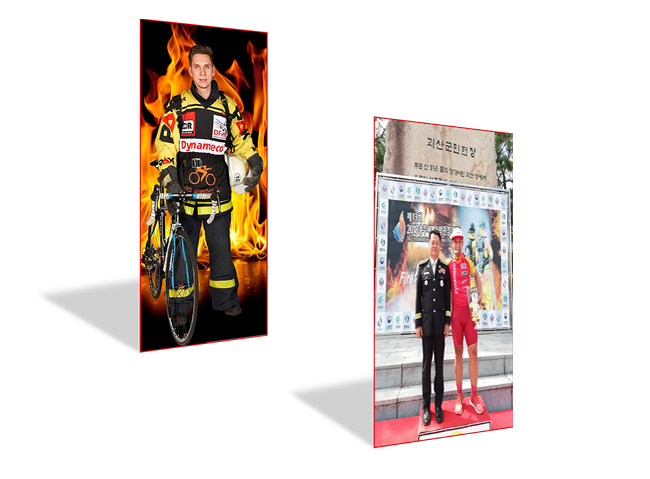 Dynameco fire protection systems also on board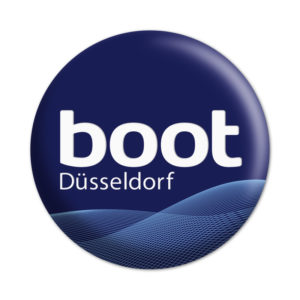 From 19–27 January 2019 Dynameco fire protection systems were presented at the boot Düsseldorf in cooperation with our sales partner (Egon Harig GmbH). For 50 years, the trade fair has attracted many guests from Germany and abroad. With about 250,000 visitors from 100 countries, it is rightly the world's largest indoor water sports fair.

With increasing awareness of safety issues, there were numerous visitors to the stand interested in the subject of fire protection on board. Our team was able to give them comprehensive advice on the various fire-fighting systems available.

The new sponsorship contract between the Dynameco brand and the two-time gold medallist in cycling, Marius Prünte, was also signed at the fair. Marius is a professional firefighter and very happy to have found a fitting sponsor in Dynameco.