Dynameco – created for Life
The product groups of Dynameco aerosol fire extinguishing generators are designed to extinguish objects on fire or fires in rooms. The extinguishing systems can be used for a wide range of applications. The highly effective aerosol generates maximum extinguishing power directly in the development phase. This means fires are safely extinguished within a few seconds to reliably protect both people and material assets.
VIDEO
fire extinguishing process
"A dependable and easy-to-use system is very important to us. The cost-performance ratio is excellent and our customers in the wind energy branch are convinced by the Dynameco fire protection technology."
What makes Dynameco unique?
"Green" extinguishing technology
Environment friendly and safe for people
No oxygen reduction during the fire extinguishing process
No harmful effects for people or machinery
Global sales network and expertise
Cost-effective future-proof technology
Easy and safe transportation worldwide
100% "made In Germany"
No elaborate pipelines or pressure containers
Minimum maintenance requirements
Space-saving installation also in confined spaces
Easy and cost-effective replacement
Minimum downtime for users
Extinguishing fires efficiently and independently
The product group Dynameco TA extinguishing generators with thermal release is a currentless system with integrated fire detection and fire suppression features.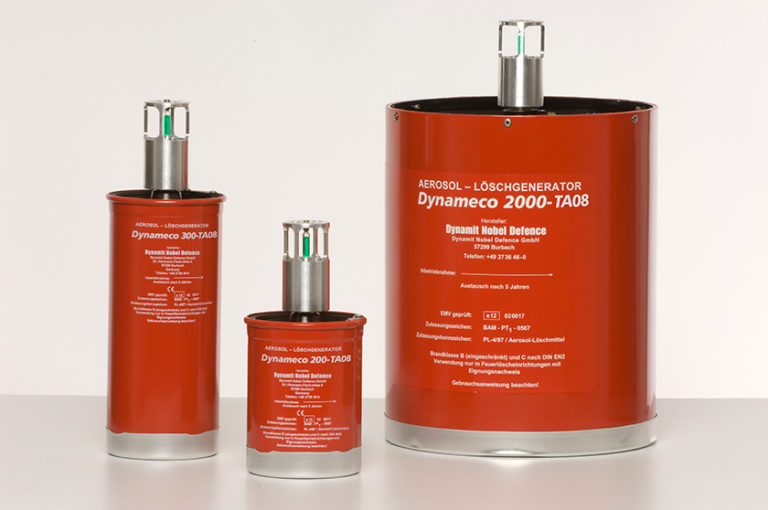 The product group Dynameco TA extinguishing generators with thermal release are designed to put out objects on fire or fires in rooms. The simple and easy to install system variants are equipped with automatic fire detection. No separate control unit is required for activation.
In addition to fire detection by means of sprinkler vials with different release temperatures, the source of the fire is also effectively suppressed using the proven aerosol extinguishing agent. This symbiosis makes Dynameco particularly effective and cost-efficient in terms of purchase and installation.  
Available for activating temperatures of:
57 °C, 68 °C, 79 or 93 °C.
Further activation temperatures on request.
Optionally available with a potential-free monitoring pressure switch.
This enables the alarm and/or shutdown of electrical units, systems or engines with the means commonly used in fire detection technology. 
Particularly suitable for:
Marine engines rooms up to 20m3

Control cabinets

Transformer stations

Compressors

Tool machines

Wind turbines

and much more…